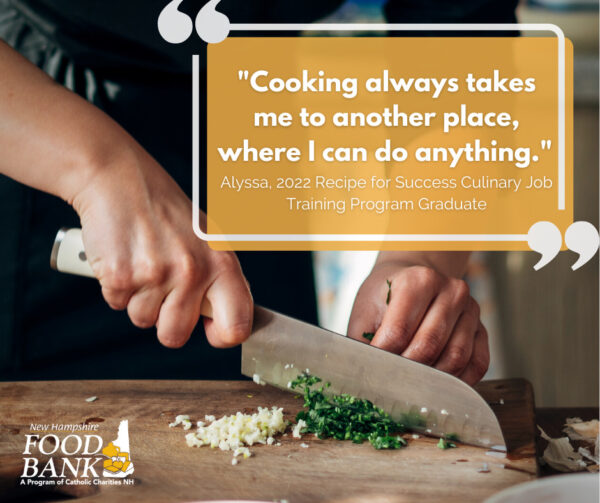 Alyssa's relationship with the NH Food Bank started nearly two years before she first set foot in our kitchen as a Recipe for Success Culinary Job Training student.  She was first involved with our Cooking Matters NH program in 2020, and had always possessed a passion for cooking as well as fond memories of cooking with her family – something she hopes to pass on to her son.
"Cooking always takes me to another place, where I can do anything," she says.
When Alyssa talks about food and cooking you can tell she is meant to be doing this. Her time with Cooking Matters was where she first began to hone cooking techniques like knife handling and where she got to flex her creativity, trying new recipes each week. It was there – thanks to the encouragement of one of her Cooking Matters course instructors – that she learned about and applied to our eight-week Recipe for Success Culinary Job training program.
For as long as she could remember, she had wanted to run her own restaurant. Now the opportunity to move forward on that path was here and she was eager to take that next step.
Every day for eight weeks, Alyssa was up at 5am to prepare herself and her son for the day. She took the bus to the Food Bank, and spent the day cooking and learning alongside our chef instructors.  She recalls her excitement as she walked into the kitchen for the first time: "[Knowing] I'd be in an actual kitchen and not a classroom, I was so excited!"
Each day, in addition to learning new skills, recipe development, menu planning and kitchen management, she assisted in making meals for a variety of NH Food Bank agencies – like afterschool programs, senior centers and more. In total, our kitchen produces an estimated 5,000 meals each week for those in need. Alyssa plans to continue serving those in need – even after graduating from this program, "My dream is to one day own a restaurant and also a food truck that will serve houseless people."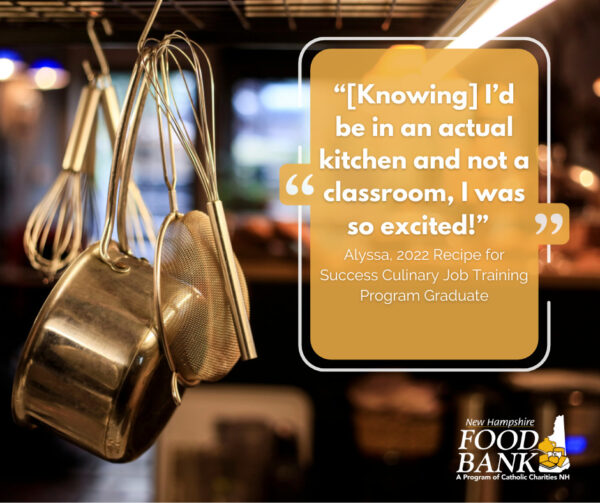 In addition to hands-on learning in our kitchen, our Culinary Job Training students have the opportunity to gain experience with catering events. Alyssa had the opportunity to gain this experience during our largest fundraising event, the 6th Annual Steel Chef Challenge – which included meeting Food Network celebrity chef Michael Symon. She also had the chance to visit a working farm, work in a food truck, and cater a wedding.
With her newly gained skills, knowledge and experience, Alyssa passed her Servsafe Manager exam in June, and has now started a new position as the head of a kitchen, serving people six days a week. Alyssa leaves the Culinary Job Training program with not only new certifications and hands-on experience but a professional network ready to support her culinary journey.
###